Brief Introduction:
Thickener, a kind of Beneficiation Equipment, is applied to dewatering of concentrate and tailings. It is widely used in metallurgy, chemistry, coal, nonmetal processing, environmental industry, etc. Thickener is not just simple settling equipment, but a new type dewatering equipment combined with mud layer filtration characteristics. The working principle is adding a certain amount of flocculant in the slurry to be concentrated to make the ore grain form floccules, accelerate its settling velocity, and thus achieve the purpose of improving the enrichment efficiency.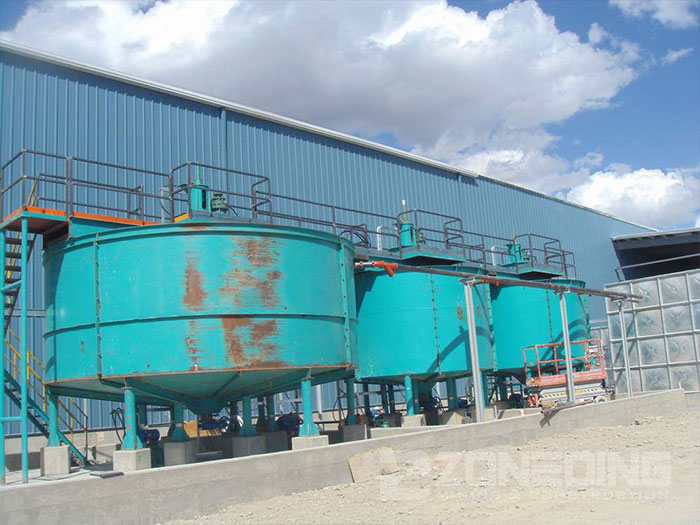 Features:
1. Adding flocculant to increase the particle size of sedimentation solids, so as to accelerate settling velocity;
2. Install inclined plate to shorten particle settling distance and increase subsidence area;
3. Give play to the effect of flocculation, filtration, and capacity increase of mud deposited thick layer;
4. Equipped with complete control facilities.
Technical Parameters:
| | | | | | | |
| --- | --- | --- | --- | --- | --- | --- |
| Model | Thickening tank diameter (mm) | Thickening tank depth(mm) | Sedimental area (㎡) | Rabble frame revolution(r/min) | Motor power (kw) | Capacity (t/d) |
| NZS-1 | 1800 | 1800 | 2.55 | 0.5 | 1.1 | 1.3-5.6 |
| NZS-2.5 | 2500 | 1800 | 4.9 | 0.33 | 1.1 | 5-10.8 |
| NZS-3 | 3600 | 1800 | 10.2 | 0.33 | 1.1 | 5-24 |
| NZS-6 | 6000 | 2956 | 28.3 | 0.3 | 1.5 | 14-62 |
| NZS-9 | 9000 | 3000 | 63.5 | 0.25 | 3 | 32-150 |
| NZS-12 | 12000 | 3600 | 113 | 0.19 | 3 | 50-250 |
| NZS-15 | 15000 | 3600 | 177 | 0.1 | 5.5 | 70-350 |
| NZS-18 | 18000 | 4400 | 268 | 0.1 | 5.5 | 100-560 |
| NZS-20 | 20000 | 4400 | 314 | 0.1 | 5.5 | 200-1440 |