Brief Introduction:
Spiral Classifier is widely used to control material size from Ball Mill in the beneficiation process, separate mineral sand and fine mud in the gravity concentration, and clean mud and water in washing mineral process.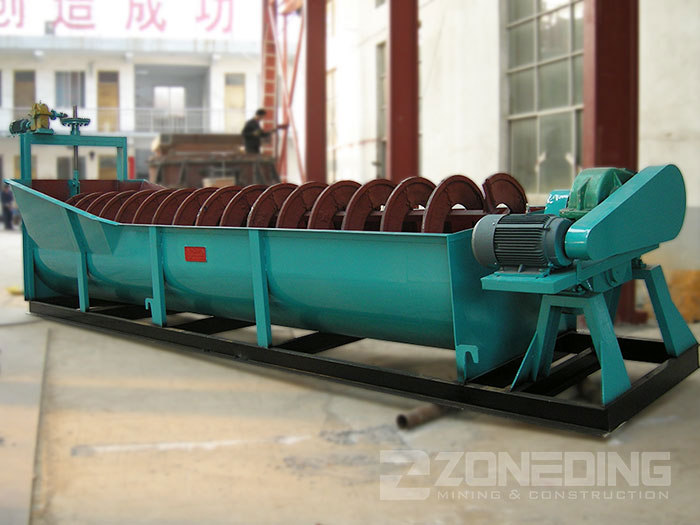 Features:
1. Simple structure, stable operation, safe and reliable.
2. The main screw frame electric lifting device of the standard configuration, making the equipment operation and replacement of spare parts more easy.
3. Optimization design of the helical blade, making sure of spare parts to minimize loss.
Technical Parameters:
Model
Spiral diameter (mm)
Speed of Spira l(r/min)
Capacity
Slope (°)
Powe r(KW)
Weight (t)
Sand Return (t/h)
Overflow (t/h)
FL-5
500
8-15.5
143-2611
32
12-18
3
1.9
FL-7
750
4.5-10
256-564
65
12-18
3
2.7
FL-10
1000
1.6-7.4
473-1026
85
12-18
5.5
4.1
FL-12
1200
5-7
1170-1600
155
12-18
5.5
7.5
FL-15
1500
2.5-6
70-115
235
12-18
7.5
10.5
FL-18
1800
2.5-6
100-190

310

12-18
11
17.1
FL-20
2000
2.5-6
160-230
400
12-18
15
19.3
FL-24
2400
3.64
160-230
580
12-18
18.5
26
Spiral Classifier in Ore Dressing Plant: