Brief Introduction:
Spiral Chute is a kind of ore Beneficiation Equipment suitable for sorting ferrous, nonferrous, nonmetallic mine and minor metal mine such as gold mine, silver mine, alluvial gold mine, lead-zinc mine, copper mine, tin mine, titanium iron mine, pyrite mine, hematite, limonite, chromite, ferberite, tungsten, tantalum-niobium, colliery, monazite, sapphire , barites, rutile, zircon.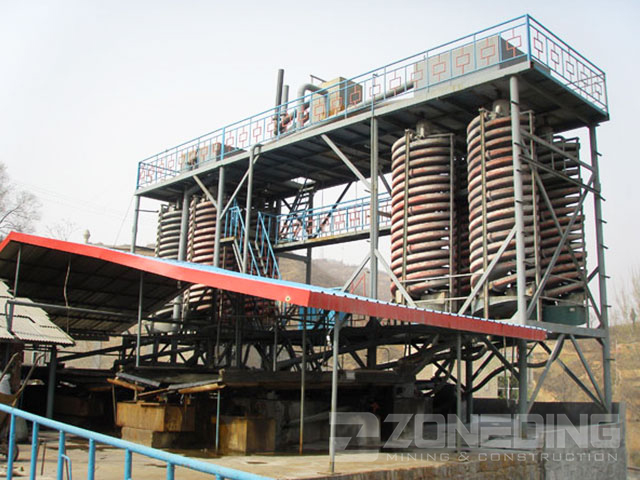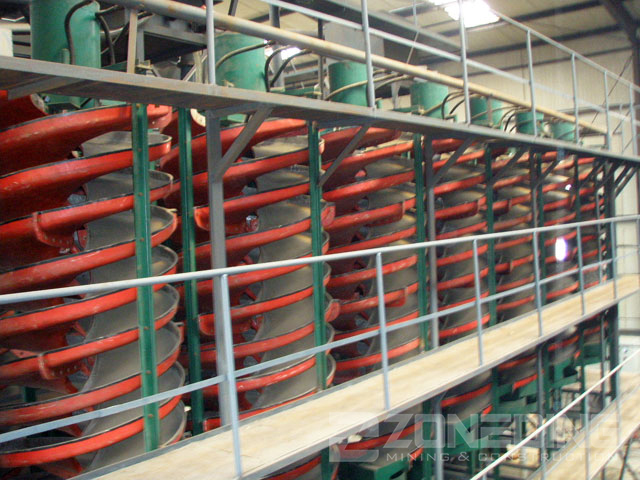 Features:
1. Simple structure;
2. Light weight, less power consumption;
3. Easy to operation and maintenance, well-adapted;
4. Wide range of selecting;
5. High handling capacity and high segregation precision.
Technical Parameters:
| | | | | | | | |
| --- | --- | --- | --- | --- | --- | --- | --- |
| Model | Helix No. | Cycle | Feed size (mm) | Feed density (%) | Capacity (t/h) | Area (㎡) | Height (m) |
| 5LL400 | 1-2 | 4-5 | 0.02-2 | 30-50 | 0.15-0.2 | 0.25 | 1.5 |
| 5LL600 | 1-2 | 4-5 | 0.02-2 | 30-50 | 0.8-1.2 | 0.5 | 2.6 |
| 5LL900 | 2-3 | 4-5 | 0.03-3 | 30-50 | 2-3 | 1.2 | 3.2 |
| 5LL1200 | 2-4 | 4-5 | 0.03-3 | 30-50 | 4-6 | 2 | 5.23 |
| 5LL2000 | 2-4 | 4-5 | 0.04-4 | 20-45 | 15-40 | 5.7 | 6.6 |