Brief Introduction:
Shaking Table is one of most commonly used mineral Beneficiation Equipment, although the processing ability based on unit area of shaking table is low, its effective particles size sorting could be up to 0.037mm limit, the interval grill of table surface is very clear and machine operating is easy. Shaker table could continuously sort concentrate ore, second-grade ore and tailings, it is very important ore sorting equipment. Shaking table is made of machine head, motor, adjusting gradient device, bed, bunker, water tank, rifle bar and lubrication system.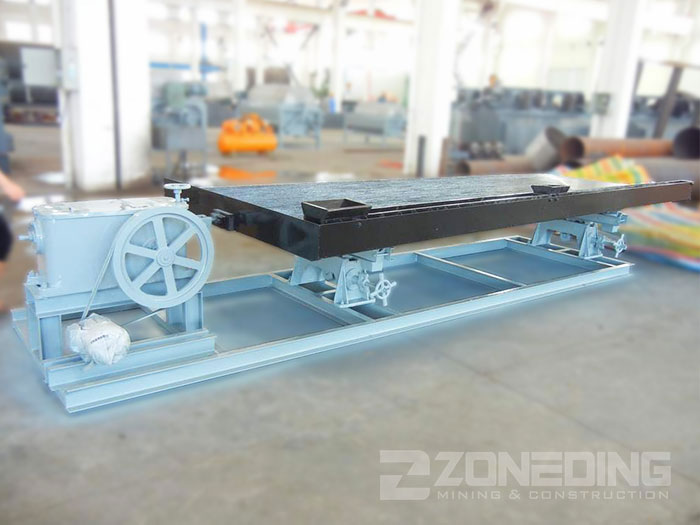 Features:
1. Great ratio of high-grade ore, high separating efficiency, easy to operate and convenient to adjust the stroke.
2. Strong wear resistance of the working surface.
3. Anti-chemical corrosion, acid and alkali.
4. Strong resistance to harsh environment.
Technical Parameters:
Name1: bed surface for coarse sand
Length: 4450mm
Transmission end width: 1855mm
Concentrate ore width: 1546mm
Max feeding size: 2mm
Feeding volume: 30-60 t/d
Feeding density: 25-30%
Stroke: 16-22mm
Frequency: 45-48 t/s
Cross slope of surface: 2.5°-4.5°
Mineral dressing area: 7.6㎡
Shape of bed surface: rectangle
Motor power: 1.1kw
Driving type: eccentric link structure
Name2: bed surface for fine sand
Length: 4450mm
Transmission end width: 1855mm
Concentrate ore width: 1546mm
Max feeding size: 0.5mm
Feeding volume: 10-20 t/d
Feeding density: 20-25%
Stroke: 11-16mm
Frequency: 48-53 t/s
Cross slope of surface: 1.5°-3.5°
Mineral dressing area: 7.6㎡
Shape of bed surface: indention
Motor power: 1.1kw
Driving type: eccentric link structure
Name3: bed surface for slurry
Length: 4450mm
Transmission end width: 1855mm
Concentrate ore width: 1546mm
Max feeding size: 0.15mm
Feeding volume: 15-25 t/d
Feeding density: 15-25%
Stroke: 8-16mm
Frequency: 50-57 t/s
Cross slope of surface: 1°-2°
Mineral dressing area: 7.6㎡
Shape of bed surface: triangle
Motor power: 1.1kw
Driving type: eccentric link structure