Brief Introduction:
The Mobile Jaw Crusher was designed by ourselves, utilizing the very latest European technology, including finite element techniques to minimize stress levels within the frame itself. Jaw Crusher Mobile Crushing Plant is a kind of new rock broken equipment, mainly used in metallurgy, chemical industry, building materials, water and electricity engineering, to process material often needed to move, especially for liquidity stone processing used in the highway, railway, water and electricity engineering. Mobile Jaw Crusher Plant greatly expands the crushing operation concept fields. Its design purpose is standing in customer's position, to eliminate broken processing barriers given to customers by the broken site, environment as your primary settle solution, and to provide efficient, low cost of the project operation hardware facilities.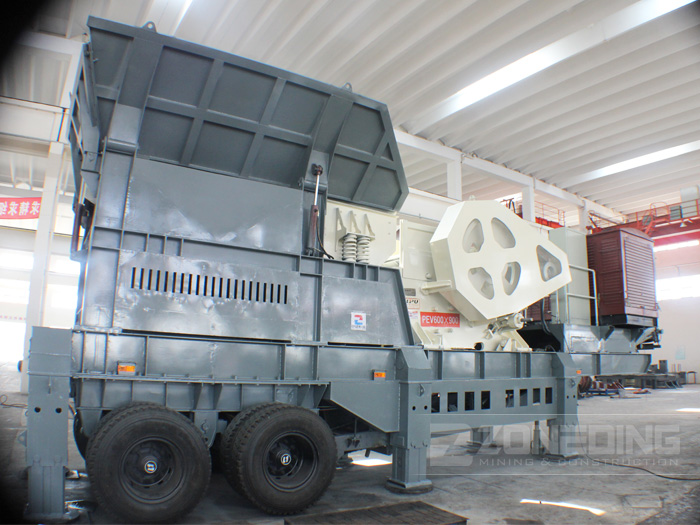 Features:
1. Integration of a complete set of the equipment installation forms, eliminate the fission of infrastructure components installed homework, reduce the material consumption, working hours. The rational compact space layout, improve the flexibility of the station;
2. Mobility flexible. The vehicle-mounted chassis is high, the width of frame is less than operations trailer, the turning radius is small, convenient for ordinary highway, more convenient for driving in the crushing field of the rugged bad road environment. To save time for station in construction site. The more conducive to the reasonable construction area, for whole crushing procedure provides more flexible space and reasonable layout configuration;
3. Reduce the material transportation cost. Jaw crusher mobile crushing plant can supply the crushing of first line, exempt from the intermediate link which material to be broken away from the scene, which reduces the material transportation cost. In addition, extension units can more directly put the broken material into a transport trunk, and turn away from the scene;
4. Strong adaptability and flexible configuration. Jaw crusher mobile crushing plant, in view of crushing, screening system, can be independently operate in single unit, can also flexibly composite system configuration unit to joint work. Discharge hopper side out for screening materials transportation mode provides a variety of configuration flexibility, the integration of the diesel generator unit configuration in addition to giving the unit power supply, can also pointed to the process system configuration unit for the joint power supply.
Technical Parameters:
Mobile Jaw Crusher Plant
| | | | | | | | |
| --- | --- | --- | --- | --- | --- | --- | --- |
| Model | Transport length (mm) | Transport height (mm) | Transport width (mm) | Max. height (mm) | Max. width (mm) | Belt Conveyor height (mm) | Total weight (ton) |
| ZDYG938E57 | 11000 | 3900 | 2450 | 4700 | 2900 | 2600 | 36 |
| ZDYG938E69 | 11200 | 3900 | 2450 | 4700 | 2900 | 2600 | 42 |
| ZDYG1149E710 | 13000 | 4400 | 2450 | 5100 | 3100 | 2600 | 55 |
Configuration
| | | | | | | | |
| --- | --- | --- | --- | --- | --- | --- | --- |
| Model | Vibrating Feeder | Jaw crusher | Belt conveyor | Extended belt conveyor | Generator | Capacity (t/h) | Power (kw) |
| ZDYG938E57 | GZD900x3800 | PE500x750 | B650X7M | Optional | Optional | 40-90 | 68.5 |
| ZDYG938E69 | GZD-960x3800 | PE600x900 | B650X7M | Optional | Optional | 70-150 | 88.5 |
| ZDYG1149E710 | GZD1100x4900 | PE750x1060 | B800X9M | Optional | Optional | 120-250 | 132 |