Brief Introduction:
Mobile Impact Crusher is usually used in the site where you should change working site often, particularly when you process stones found in high way, railway, etc. Therefore, the Mobile Impact Crusher Plant must be designed especially for clients according to different materials, scale and dependence on the ultimate products. Impact Crusher series Mobile Crusher Plant may be applied on the market of metallurgy, chemical, building materials, water power station. The integration unit is straightforward for installation and maintenance. This makes the whole portable crusher plant consider the options that come with longer working some time and higher durability.This series Mobile Crusher Plant incorporates every one of the crushing plants, for example Impact Crusher, Vibrating Feeder, Vibrating Screen, Belt Conveyor , etc.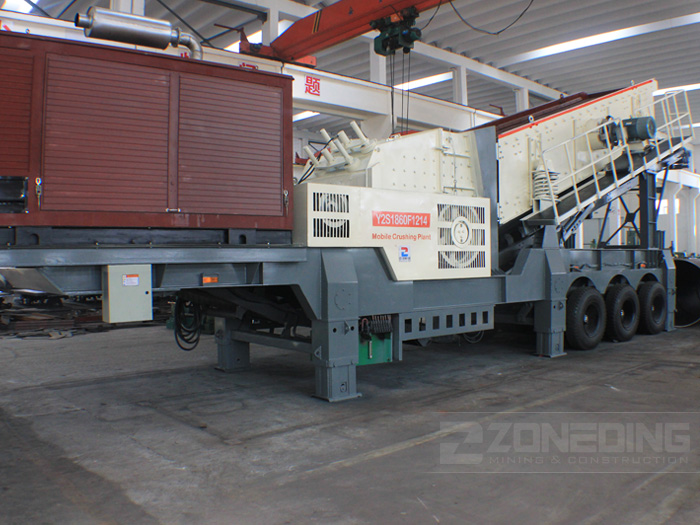 Features:
1. Move easily. It may navigate to the crushing place where is hard to go. It not only can drive on the smooth road, but also around the bumpy road.
2. Compact structure and simple operation. Integrative equipment group with trailer saves the significant area. With generator, motor and control box, it may operate in any place even there`s no electricity. With supporting equipment on the trailer, so you should not install the device.
3. Save the price. Crush materials on-site, decrease the transportation cost.
4. Wide application. The mobile impact crushing plant can work as independent unit; work with other unit to accomplish primary and secondary crushing; work with two other units to accomplish primary, secondary, and fine crushing; working as a production line using the Screening Equipment (firstly screening then crushing, or firstly crushing then screening.)
5. Good performance and convenient maintenance.
6. Flexible configuration. Can offer suitable mobile impact crushing plant based on customers working site, material typical, and particle shape requirement, such as single unit, combined units, self-load belt conveyor unit.
Technical Parameters:
Mobile Impact Crusher Plant
| | | | | | | | |
| --- | --- | --- | --- | --- | --- | --- | --- |
| Model | Transport length (mm) | Transport width (mm) | Transport height (mm) | Max.height (mm) | Max. width (mm) | Belt conveyor height (mm) | Total weight (t) |
| ZDY3S1548F1010 | 11000 | 2500 | 4000 | 6000 | 2800 | 4000 | 42 |
| ZDY3S1848F1210 | 12200 | 2800 | 4200 | 6500 | 3000 | 4000 | 46 |
| ZDY3S1860F1214 | 12500 | 2800 | 4500 | 6500 | 3000 | 4200 | 51 |
| ZDY3S2160F1315 | 13500 | 3000 | 4800 | 6800 | 3200 | 4200 | 57 |
Configuration:
| | | | | | |
| --- | --- | --- | --- | --- | --- |
| Model | Vibrating Screen | Impact crusher | Belt conveyor | capacity (t/h) | Power(kw) |
| ZDY3S1548F1010 | 3YK1548 | PF1010 | B500X7M | 40-90 | 97.5 |
| ZDY3S1848F1210 | 3YK1848 | PF1210 | B650X7M | 80-120 | 136 |
| ZDY3S1860F1214 | 3YK1860 | PF1214 | B650X8M | 90-180 | 165 |
| ZDY3S2160F1315 | 3YK2160 | PF1315 | B800X8M | 120-250 | 245 |