Brief Introduction:
Mobile Crushing Plant is high-efficiency and modular equipment. It can work by single machine, as well as combination of several machines to be a plant. It is widely used in road and bridge construction, urban construction, building garbage disposal, mining, metallurgical, energy and other departments for crushing plant operations.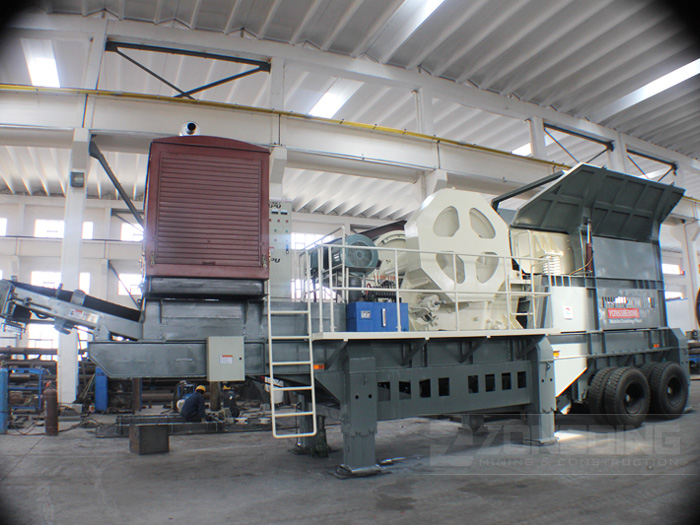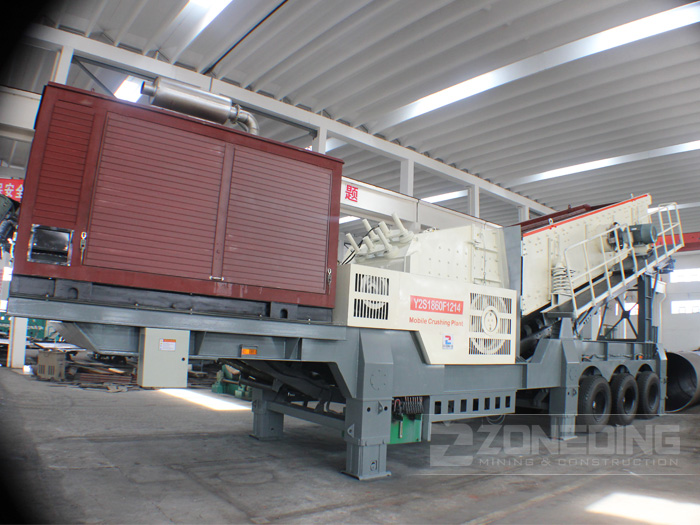 Features:
1. Flexible convenient and versatile; It can save a lot of infrastructure and removal cost;
2. Reasonable compact space layout greatly reduces the the occupied space of the equipment in the field;
3. Crushing materials in working site immediately and moving with the mining surface of raw materials greatly reduce the material transportation cost;
4. The equipment chassis is high and the turning radius is small make it easy to travel on ordinary road and the rugged road;
5. It can use external power supply as well as high reliability diesel generator;
6. The technology for crushing and Screening Equipment is mature structure is compact and performance is stable.
Technical Parameters:
Model 1: YG0830E4060-3S1548F1010
Feeder Model: GZD0830
Primary Crusher Model: PEV400×600
Secondary Crusher Model: PFW1010-Ⅲ
Vibrating Screen Model: 3YK1548
Tyre Parameters: Double-axle
Return Belt Conveyor Model: B500×14m
Receiving Belt Conveyor Model: B500×10m
Left Belt Conveyor Model: B500×8m
Right Belt Conveyor Model: B500×8m
Belt Conveyor Under the Screen Model: B500×8m
Transport length (mm): 14500
Transport Width (mm): 3000
Transport Height (mm): 4200
Weight(t): 41
Model 2: YG0830E5075-3S1848F1210
Feeder Model: GZD0830
Primary Crusher Model: PEV500×750
Secondary Crusher Model: PFW1210-Ⅲ
Vibrating Screen Model: 3YK1848
Tyre Parameters: Triplex-axle
Return Belt Conveyor Model: B650×16m
Receiving Belt Conveyor Model: B650×12m
Left Belt Conveyor Model: B500×8m
Right Belt Conveyor Model: B500×8m
Belt Conveyor Under the Screen Model: B500×8m
Transport length (mm): 17200
Transport Width (mm): 3000
Transport Height (mm): 4800
Weight(t): 58
Model 3: YG0830E4060-3S1548E25120
Feeder Model: GZD0830
Primary Crusher Model: PEV400×600
Secondary Crusher Model: PEV250×1200
Vibrating Screen Model: 3YK1548
Tyre Parameters: Double-axle
Return Belt Conveyor Model: B500×14m
Receiving Belt Conveyor Model: B500×10m
Left Belt Conveyor Model: B500×8m
Right Belt Conveyor Model: B500×8m
Belt Conveyor Under the Screen Model: B500×8m
Transport length (mm): 14500
Transport Width (mm): 3000
Transport Height (mm): 4200
Weight(t): 37
Model 4: YG0830E5075-3S1848Y100
Feeder Model: GZD0830
Primary Crusher Model: PEV500×750
Secondary Crusher Model: PYG100
Vibrating Screen Model: 3YK1848
Tyre Parameters: Triplex-axle
Return Belt Conveyor Model: B650×16m
Receiving Belt Conveyor Model: B650×12m
Left Belt Conveyor Model: B500×8m
Right Belt Conveyor Model: B500×8m
Belt Conveyor Under the Screen Model: B500×8m
Transport length (mm): 17200
Transport Width (mm): 3000
Transport Height (mm): 4800
Weight(t): 54