Lead Zinc Ore Beneficiation Plant
Introduction of Lead Zinc Ore Beneficiation Plant
Mineral Benefication Plant is the process of getting the useful materials for smelt and other industry, according to the physical, chemical properties of different minerals in the ore. In the Beneficiation Plant, after the ore to be crushed, gravity separation, flotation separation or magnetic separation methods can be used to separate the useful minerals and gangue minerals, and make all kinds useful symbiosis minerals separate from each other as far as possible to remove or reduce the harmful impurities. Lead Zinc Ore Beneficiation Plant consists of many equipment, such as Jaw Crusher, Impact Crusher, Vibrating Feeder, belt converyor, Ball Mill , Spiral Classifier, Flotation Machine, Agitation Tank, Rotary Dryer. The equipment needed for each model mainly depends on your situation and your expect about the final product, such as the size of the stone, the grade of the coarse ore. The Ore Beneficiation Plant is composed by feeding, primary crushing, secondary crushing, grinding, classifying, chemical flotation, concentrated ore and drying.
Lead Ore Beneficiation
Lead is one of the oldest metals known to humans. Its widespread occurrence, relatively simple extraction and combination of desirable properties have made it useful to humans since at least 5000 BC. In deposits mined today, lead ore beneficiation method also contains zinc, silver and commonly copper and is extracted as a co-product of these metals. More than half of the lead consumed today comes from lead recycling, rather than mining.
Lead Ore Flotation
Lead minerals are separated from gangue and other materials in the ore by dry crushing, grinding to produce a slurry, gravity classification and flotation. The one of the process which is used for getting Pure Lead is the Flotation process; this process collects the Sulfur bearing portions of the Ore, which contains the valuable metal. The Liberated Lead minerals Flotation are smelted by three stage process of charge preparation blending, conditioning blast sintering and blast furnace reduction. The blast furnace bullion is then refined by the removal of copper, tin, arsenic, antimony, zinc, silver and bismuth.
Lead Ore Concentrate
Lead ore concrete malleability and ease of smelting accounted for its early use in pipes and lead slag grinding mill sheeting for construction purposes. Most lead today is used in batteries for motor vehicles and in communications. After removing the ore from the mine, it is treated at a concentrating mill. In Lead concentrating process all waste rock is removed from the Lead.
Introduction of Lead and Zinc Ores
Lead and zinc ores are usually found together with gold and silver. A lead-zinc ore may also contain lead sulfide, zinc sulfide, iron sulfide, iron carbonate, and quartz. When zinc and lead sulfides are present in profitable amounts they are regarded as ore minerals. The remaining rock and minerals are called gangue.
Lead and zinc is kind of earlier metal extracted from lead and zinc ore. Lead and zinc is widely used in the electrical industry, mechanical industry, military industry, metallurgy industry, chemical industry, light industry and pharmaceutical industry, etc. In addition, lead metal is also widely used in the nuclear industry, oil industry, etc. There are 11 kinds of plumbing minerals and 6 kinds of zinc minerals in lead and zinc ore in which galena and sphalerite are the most important.
Customer Site of Ore Beneficiation Plant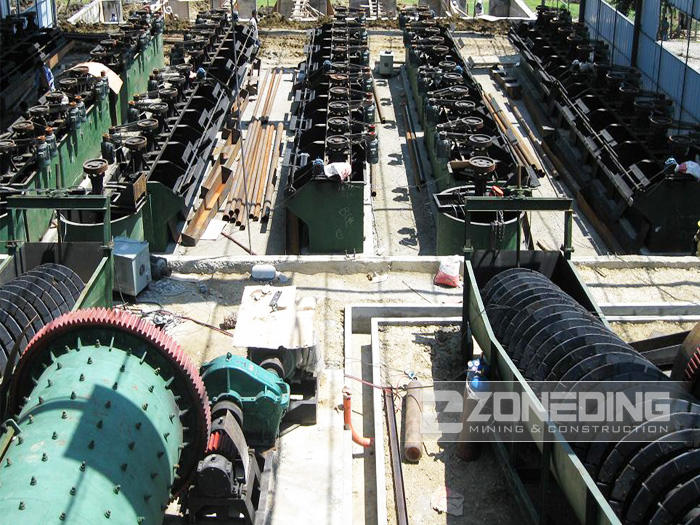 Looking for ideal Lead Zinc Ore Beneficiation Plant Manufacturer & supplier ? We have a wide selection at great prices to help you get creative. All the Ore Beneficiation Plant are quality guaranteed. We are China Origin Factory of Mineral Beneficiation Plant. If you have any question, please feel free to contact us.
Product Categories : Minerals Beneficiation Plant