Brief Introduction:
Magnetic Separator is used for wet magnetic separation, separating materials with granularity below 3mm, such as magnetite, hematite, limonite, pyrrhotite, ilmenite. It is also used for deironing of coal, nonmetallic ore, construction industry, etc. ZONEDING can provide magnetic separators of forward flow, semi counter flow and counter flow types as customers' requirements.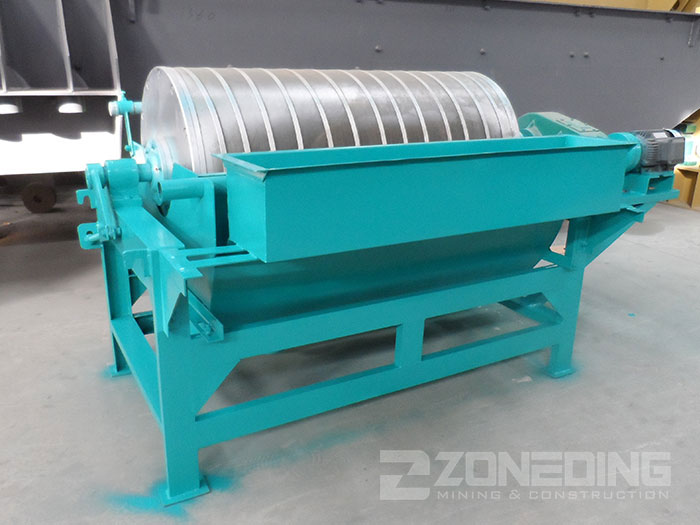 Features:
1. High magnetic intensity;
2. Low energy consumption;
3. Good beneficiating efficiency;
4. Simple structure and easy maintenance.
Technical Parameters:
| | | | | | | |
| --- | --- | --- | --- | --- | --- | --- |
| Model | Shell Diameter (mm) | Shell length (mm) | Feed size (mm) | Capacity (t/h) | Power(kw) | Weight (t) |
| CTB612 | Φ600 | 1200 | 0-2 | 10-20 | 1.5 | 1.5 |
| CTB618 | Φ600 | 1800 | 0-2 | 15-30 | 2.2 | 1.8 |
| CTB718 | Φ750 | 1800 | 0-2 | 25-45 | 3.0 | 2.2 |
| CTB918 | Φ900 | 1800 | 0-3 | 35-70 | 4.0 | 2.8 |
| CTB1018 | Φ1050 | 1800 | 0-3 | 40-75 | 5.5 | 4.3 |
| CTB1024 | Φ1050 | 2400 | 0-3 | 52-100 | 5.5 | 5.2 |
| CTB1218 | Φ1200 | 1800 | 0-3 | 47-90 | 5.5 | 5.0 |
| CTB1224 | Φ1200 | 2400 | 0-3 | 80-120 | 7.5 | 6.4 |
Magnetic Separator in Ore Beneficiation Plant: