Brief Introduction:
Flotation Machine applies to separation of non-ferrous metal, ferrous metal, noble metal, non-metallic mine, chemical material. And flotation machine can be used in roughing, scavenging, selection or reverse flotation. During the flotation process, pulp will be mixed with drug firstly and agitated. Then target ore grains will selectively attach to bubbles, float onto the surface of pulp, which will be scraped out and collected. And the rest materials will be left there. Thus, the separation is accomplished.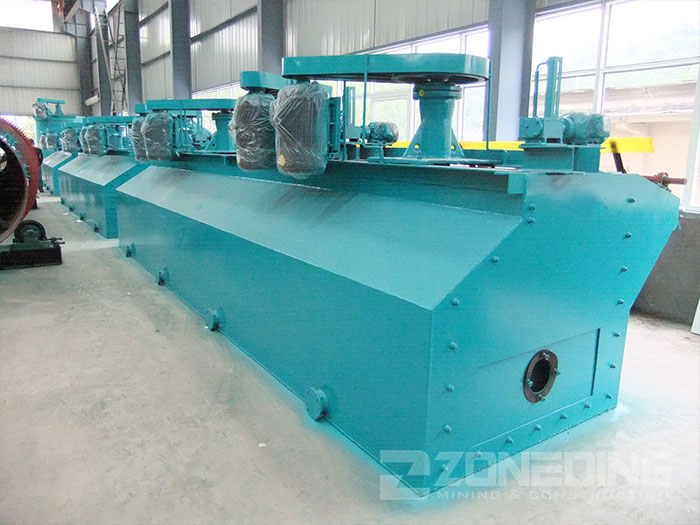 Features:
1. Large inhaling capacity and low energy consumption;
2. Complete flotation circuit with inhaling air and pulp, no auxiliaries are needed;
3. Process is easy to be changed;
4. Reasonable circulation of pulp decreases coarse sand sedimentation;
5. Automatic controlling device makes adjustment more convenient. The impeller is rotated by V-belt of motor and produces centrifugal effect with negative pressure. Enough air is inhaled into mixed pulp, and pulp mixes with drug at the same time. Mineral sticks on bubble completely and floats on the surface of pulp to form mineralized bubble. Useful bubble is scraped out by adjusting flashboard height and controlling liquid surfac.
Technical Parameters:
SF series
Model
SF0.37
SF0.7
SF1.2
SF2.8
SF4
SF8
Volume (m3)
0.37
0.7
1.2
2.8
4
8
Impeller Diameter (mm)
300
350
450
550
650
760
Capacity (m3/min)
0.2-0.4
0.3-0.9
0.6-1.2
1.5-3.5
0.5-4
4-8
Impeller speed (r/min)
352
400
312
268
238
191
Impeller motor
Model
Y90L-4
Y100L2-4
Y132M2-6
Y160L-6
Y180L-6
Y250M-8
Power (KW)
1.5
3
5.5
11
15
30
Scraper motor
Model
Y801-4
Y90S-4
Y90S-4
Y100L-6
Y100L-6
Y100L-6
Power (KW)
0.55
1.1
1.1
1.5
1.5
1.5
BF series
Model
BF-1.2
BF-2.0
BF-2.8
BF-4.0
BF-6.0
BF-8.0
Effective volume (m3)
1.2
2
2.8
4
6
8
Overall dimension (L x W x H) (mm)
1050 ×1150×1100
1400 ×1450×1120
1650 ×1650×1150
1900 ×2000×1200
2200 ×2350×1300
2250 ×3150×2935
Speller dia. (mm)
450
500
550
650
700
760
Speller speed (m/s)
7.02
7.5
8.06
8
7.5
Air suction volume(m3/ m2.min)
0.9-1.10
Motor model
Y132M2-6
Y160M-6
Y180L-8
Y200L-8
Y225S-8
Y225M-6
Motor power (KW)
5.5
7.5
11
15
18.5
30
Capacity (m3/min)
0.6-1.2
1.0-2.0
1.4-3.0
2.4-4.0
3.0-6.0
4.0-8.0
Unit cell weight (kg)
1370
1750
2130
2585
3300
4130
Flotation Machine for Lead-zinc Ore Beneficiation: