Brief Introduction:
Ball Mill is one of the most important Grinding Equipment to grind the crushed materials, which is widely used in the manufacture industries, such as cement, silicate, new building material, refractory material, fertilizer, ferrous metal, nonferrous metal and glass ceramics.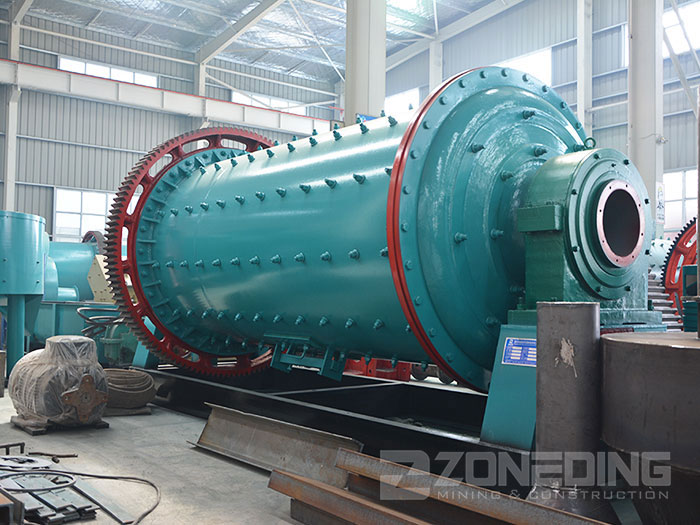 Features:
1. Large application range, simple structure and convenient maintenance;
2. Large capacity and continuous work are obvious advantages;
3. Various barrel lining and grinding media, excellent corrosion resistance;
4. Installation and adjustment are very convenient and easy to operate.
5. Cylinder is rolled and welded with Q235B steel plate. (the steel thickness is generally 1/100 of the cylinder diameter, for example ball mill of Φ1500, the steel plate thickness is 16 mm), the material of inlet and outlet hollow shaft is ZG35.
6. The hollow axis adopts the cast steel and the lining can replace, the rotating big gear processes in the way of casting rolling gear. The barrel body is wearable well and bears wearable scaleboard. This machine run steadily and works reliably.
Technical Parameters:
| | | | | | | | |
| --- | --- | --- | --- | --- | --- | --- | --- |
| Model | Speed (r/min) | Max. weight of balls (t) | Input size (mm) | Output size (mm) | power (kw) | Capacity (t/h) | Weight(t) |
| Φ900×1800 | 37 | 1.8 | ≤15 | 0.075-0.89 | 15 | 0.5-2 | 3.4 |
| Φ900×2100 | 37 | 2.3 | ≤15 | 0.075-0.4 | 18.5 | 0.4-2 | 3.9 |
| Φ900×3000 | 35 | 3.85 | ≤25 | 0.075-0.4 | 30 | 1.1-2.5 | 7.78 |
| Φ1200×2400 | 35 | 4.6 | ≤25 | 0.075-0.4 | 30 | 1.3-3.2 | 8.65 |
| Φ1200×2800 | 35 | 5.4 | ≤25 | 0.075-0.4 | 37 | 1.5-3.7 | 10.02 |
| Φ1200×4500 | 35 | 8.6 | ≤25 | 0.075-0.4 | 45 | 2.7-6.79 | 14 |
| Φ1500×3000 | 29 | 9 | ≤25 | 0.047-0.4 | 75 | 3.3-8.2 | 14.12 |
| Φ1500×3500 | 29 | 10.5 | ≤25 | 0.047-0.4 | 75 | 3.3-8.5 | 15.64 |
| Φ1500×4500 | 29 | 13.5 | ≤25 | 0.047-0.4 | 90 | 4.5-12 | 20 |
| Φ1500×5700 | 29 | 17 | ≤25 | 0.047-0.4 | 110 | 2.6-14 | 21.5 |
| Φ1830×3000 | 24 | 13.5 | ≤25 | 0.047-0.4 | 135 | 4-15 | 28 |
| Φ1830×3600 | 24 | 14 | ≤25 | 0.047-0.4 | 135 | 4-15 | 29 |
| Φ1830×4500 | 24 | 20 | ≤25 | 0.047-0.4 | 155 | 4-19 | 32 |
| Φ1830×7000 | 24 | 31.5 | ≤25 | 0.047-0.4 | 210 | 6-22 | 37.5 |
| Φ2100×3000 | 22 | 18 | ≤25 | 0.047-0.4 | 210 | 6.4-28 | 40.79 |
| Φ2100x3600 | 22 | 20 | ≤25 | 0.047-0.4 | 210 | 7-28 | 42 |
| Φ2100×4000 | 22 | 21.5 | ≤25 | 0.047-0.4 | 210 | 7.6-28 | 43.45 |
| Φ2200×3600 | 21.7 | 25 | ≤25 | 0.047-0.4 | 245 | 5.2-32 | 44 |
| Φ2200×7000 | 21.7 | 46 | ≤25 | 0.047-0.4 | 380 | 15-38 | 63 |
| Φ2400×3600 | 21 | 28 | ≤25 | 0.047-0.4 | 320 | 8-60 | 47 |
| Φ2400×4500 | 21 | 35 | ≤25 | 0.047-0.4 | 380 | 8.5-60 | 70.5 |
| Φ2700×3600 | 20.7 | 40 | ≤25 | 0.047-0.4 | 400 | 12-80 | 75.5 |
| Φ2700×4500 | 20.7 | 48 | ≤25 | 0.047-0.4 | 450 | 12-90 | 102 |
| Φ3200×4000 | 18 | 65 | ≤25 | 0.047-0.4 | 800 | 30-180 | 137 |