Brief Introduction:
Agitation Tank is mainly used to mix pulp before flotation in the beneficiation process. It can mix drug and pulp intensively. Agitator is suitable to mix pulp with density smaller than 30% (weight ratio) and size smaller than 1mm. V-belt of motor drives impeller to mix drug and pulp completely. This machine can increase reaction time and strengthen reaction quality of the drug.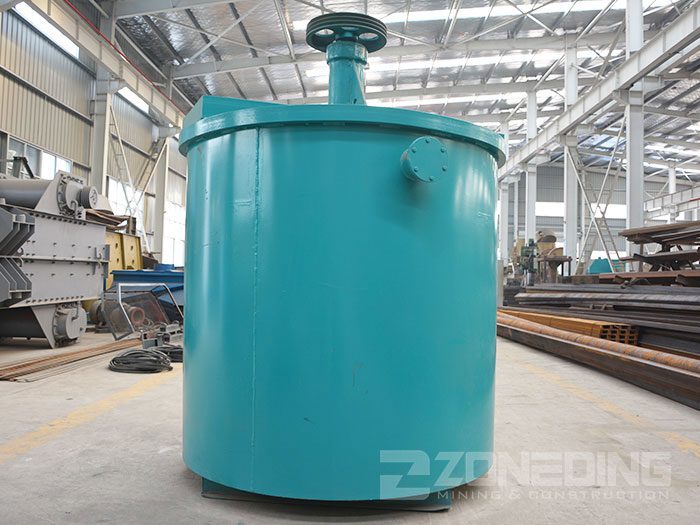 Features:
1. Strong agitating capacity;
2. High circulating ability;
3. Easy to maintenance;
4. Uniquely designed impeller;
5. Uniform agitation;
6. Excellent mixing result.
Technical Parameters:
Model
Internal diameter (mm)
Internal Height (mm)
Volume (m3)
Impeller speed (r/min)
Impeller diameter (mm)
Weight (t)
Motor power
Dimension (LxWxH) (mm)
Model
Power(KW)
XB-500
500
500
0.098
600
200
0.15
Y90L-6
1.1
600×566×954
XB-750
750
750
0.33
530
255
0.6
Y90L-4
1.5
1131×880×1241
XB-1000
1000
1000
0.58
530
300
0.99
Y100L1-4
2.2
1131×1130×1492
XB-1200
1200
1200
1.4
235
400
1.05
Y132M1-6
4
1500×1480×1800
XB-1500
1500
1500
2.2
355
500
1.2
Y132M2-6
5.5
1750×1640×2190
XB-2000
2000
2000
5.46
230
550
1.6
Y160M-6
7.5
2380×2162×2850
XB-2500
2500
2500
11.2
230
650
3.44
Y160L-6
11
3036×2716×3543
XB-3000
3000
3000
19.1
210
700
4.61
Y225S-8
18.5
3604×3216×4250
XB-3500
3500
3500
30
230
850
7.28
Y225M-8
22
3940×3766×5386
Agitation Tank in Mineral Beneficiation Plant: